History of Quantity Surveyors
Do you know that quantity surveyors have been around for a long time? It's believed the ancient Egyptians might have used quantity surveyors when they were building the pyramids and other structures in this cradle of civilisation.
There were records to show workers measuring and recording materials used in various construction sites. But of course, they wouldn't have been called quantity surveyors back then.
Quantity surveying started developing as a profession during the 19th century in England. It's no surprise that the big names in quantity surveying history came from the UK. Even here in Australia, most early industry practitioners brought qualifications and expertise from the UK and are recognised for their technical skills.
So, as you can see, quantity surveying is not that new, but I still get questions from some people asking, 'So, what is a quantity surveyor (or QS)? And what is it that you do?' People know that architects design buildings and builders build, but what does a quantity surveyor do?
What does a quantity surveyor do?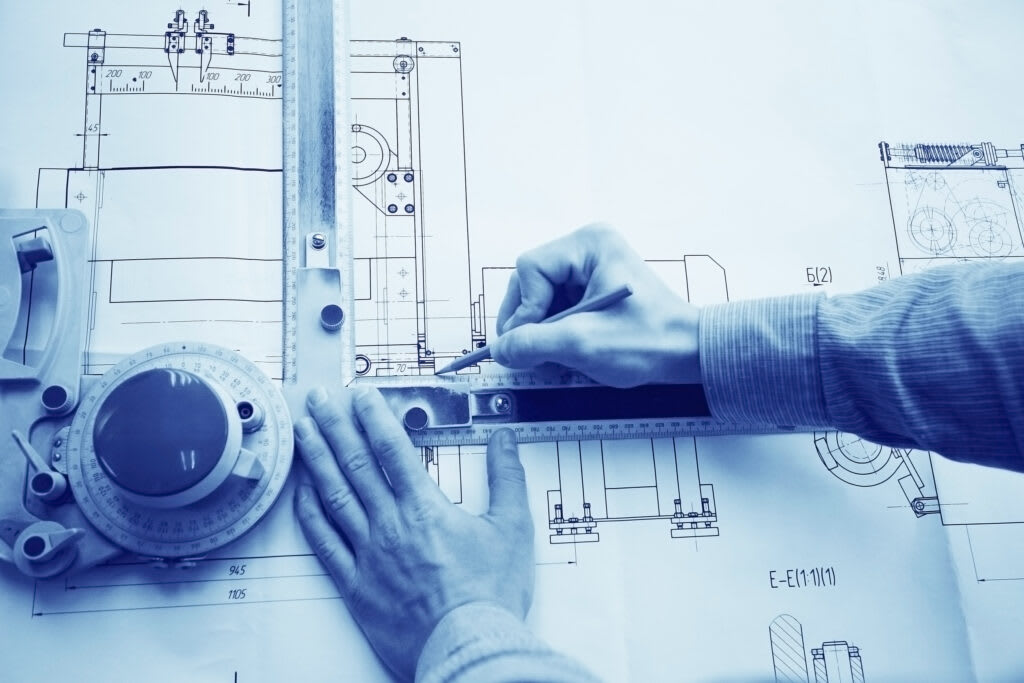 When I decided to study Construction Economics, few students enrolled in the course. Unlike Architecture, which attracts thousands of students, only a few people signed up. For me, that was good because it meant less competition.
I think the reason for lack-lustre enrolments was because students didn't understand where the qualification could take them. They didn't know what quantity surveying involved.
When people ask me at dinner parties, 'What do you do?' Even today, I generally say I'm a valuer.
Why? Because people still don't understand the role of a qualified quantity surveyor. And it's easier to say I'm a valuer of construction costs.
We get so many calls from people wanting valuations on their properties or wanting us to go out and survey their property.
So let's dumb it down and explain the differences:
A property valuer is someone who will value what your property is worth or what the units in your development will sell for.
A land surveyor is someone who can work out where the boundary of your property is and even set out where your house is to be built. They are those funny people walking around with theodolite thingamajigs!
A quantity surveyor is someone who tries to work out what the construction cost of your property is likely to be. I say 'try' because, as you can appreciate, lots can go wrong during construction, such as weather conditions or industrial disputes.
A quantity surveyor works within the construction industry. We are the ones who estimate the costs of construction and all related expenses. When you think of constructing a building, an apartment block, an office tower, or whatever you want to build, you should consult a quantity surveyor or cost manager.
Do I need a quantity surveyor?
Builders are good at building. But that doesn't necessarily make them good at maximising the depreciation allowances you, the developer, or investor are entitled to.
That's why if you have contracted a builder to construct your investment property, it still pays to have a quantity surveyor report prepared professionally for you – these are also known as tax depreciation schedules.
In my two decades of being a quantity surveyor, we've never seen a builder's rental property depreciation schedule that we could not improve upon and significantly increase the claim for the investor.
Some of the common mistakes I see in builder-prepared depreciation schedules are:
Certain depreciable items are overlooked through a lack of experience;
Professional fees, such as design and council contributions, are omitted;
Some categories which allow a faster depreciation rate are overlooked; and
Plant and equipment items, such as ovens and dishwashers, are based on the lower cost to the builder rather than the investor.
By far, the worst mistake is the last one. And this can cost you significantly.
Let me give you an example. You see, when a builder buys an oven for $800, that's not what you pay for it. By the time the investor pays for this item, other fees such as the architect's design, transportation, installation, and supervision would have been included. Next thing you know, the actual cost of this oven to you is $1,100, and it's the actual cost we're after, not what the builder paid.
Now, that extra $300 on the oven depreciates at 20 per cent per annum rather than at the 2.5 per cent building allowance rate. This means you can claim the depreciation much faster.
Let builders build and let tax depreciation quantity surveyors save you money.
By organising a Tax Depreciation Schedule, how much will I save on my residential investment property?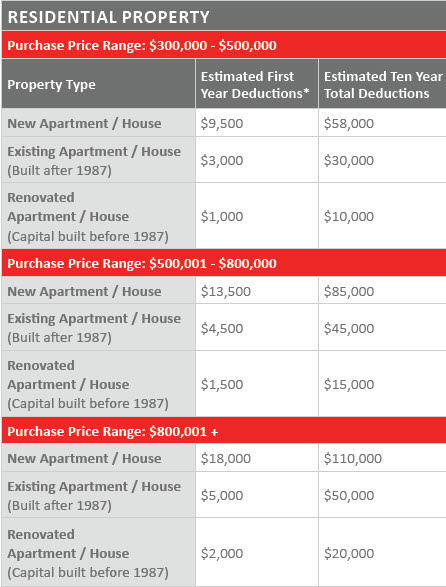 That depends on what type of property you have purchased, how old the property is and when you bought the property.
Choosing the right Quantity Surveyor
Buying an investment property is a lengthy process and for a good reason. It ensures procedures are followed and regulations are met before you are fully committed financially. And let's face it, you're spending a lot on something you ultimately expect to make a profit on, so proper due diligence is paramount.
But what about the process you go through to purchase your tax depreciation schedule? While the cost may be a fraction of what you paid for your property, failure to obtain a thorough report will likely cost you thousands of lost tax deductions yearly.
Follow these steps to ensure you maximise every possible cent and avoid unnecessary interest from the tax office.
Why do I need a Quantity Surveyor, not an Accountant?
The Australian Taxation Office has declared that Quantity Surveyors, not accountants are the correct organisation to estimate the construction costs – where the price is unknown.
You can read the ruling in Tax Ruling 97/25.
Engage a quantity surveyor straight after settlement
Unless your property is very unusual, there would be no need to speak to a quantity surveyor before purchasing a property.
While you're hunting for potential investments, you can work out the estimated depreciation for a property by using Washington Brown's free, online property depreciation calculator.
Once you have committed to purchasing the property, you might want to engage a quantity surveyor.