Deductible tax for repairs and maintenance;
Good news! All those pesky repairs and maintenance that need to be made on your rental property are probably deductible in your tax return.
For this to be the case, the repairs and maintenance must be directly on the wear and tear of the property or other damage that only occurred due to renting your property.
Generally, repairs involve a replacement or upgrade of a worn out or broken part in the property.
The maintenance refers to keeping the property in good condition. For example, repainting faded walls, cleaning the carpet or changing a light bulb.
The rule is that repairs to a rental property will generally be deductible if the property continues to be rented. Or the property remains available for rent but there is a short time frame when the property goes unoccupied.
However, it is important to note that there are some expenses that are not able to be deducted on your tax return. These include; the replacement of an entire structure or unit of a property. No renovations, alterations or extensions can be deducted. Also, any initial repairs completed on the property before a tenant moves in are not deductable.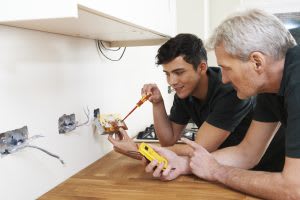 An example of repairing the property when it is no longer being rented out;
Last year, when the Blackmans tenants moved out in June 2015, they discovered that their stove no longer worked, kitchen tiles had been cracked, and the toilet window was broken. The Blackmans paid for the repairs on their property in July 2015 in order to sell their property.
The Blackmans were no longer using the property to produce rental income since the tenants had moved out. However, they could still claim deductions for the repairs on the property because the repairs related to the period when their tenants were living in the property. The repairs were also completed before the end of the income year.