Tip #69 – Body Corporate Levy Trick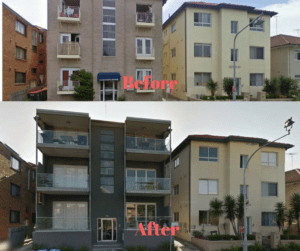 The other day as I was dropping my daughter off to school, I looked across the road and noticed something strange.
Sure enough, back in the day, these two blocks were pretty similar. But now the block on the left leaves its poor cousin for dead!
Being a Quantity Surveyor – I quickly did some maths – I reckon new balconies, render & paint for a block that size probably cost each owner around $65k.
But I think they'll each get $120K more in resale value.
That's a pretty good return, but I'll let you in on a very little known trick that'll make that return even better.
If the work carried out was paid for from the sinking fund…the total cost would have been 100% tax deductible.
So, if the body corporate had been increasing levies whilst the work was being planned or beforehand – the investors in the block would have been able to claim the work as an outright deduction.
However, if the body corporate had to raise a special levy to do the work, most of the work would only be claimable at 2.5% per annum based upon the cost of the work.
That's a MASSIVE difference to the bottom the line.