I've written a Book on Depreciation – and you can have it for FREE!
I've written a book on depreciation, called Claim It! However, this goal didn't just happen over night…
Like everything in life, there was a windy path that lead me in to depreciation and then into writing my own book!
My goal since I was 23 has always been to educate property investors about the power of property depreciation. Bit weird I know.
I used to be a Junior lawns bowls champ (when I was playing in 1984 – there were 6 players under 18 playing – so it wasn't too hard!)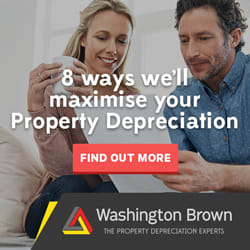 Then at 15 I thought I had a career as first grade footballer…but as I went through puberty I realised my legs were too skinny!
So then at 23 I discovered property depreciation – and I wrote a thesis on the topic in 1993…
Last year I wrote my book CLAIM IT! – and it's the proudest thing I've done in my work career.
That's a hard copy book… and in this modern world of iPads not everyone wants a hard copy.
So this month I launched a FREE eBook that gives you some of the key chapters for free, including my personal investment story and strategy.
Get it for free now – at www.washingtonbrown.com.au/ebook
I hope you enjoy it.