How to Use the Property Depreciation Calculator
Your Questions on A Rental Property Depreciation Calculator Answered!
Depreciation is not the foremost thing on the mind of most investors at the initial stage of acquiring a property. Usually, the consideration for this benefit starts to set in only after the purchase which may be less advantageous compared to when it is thought of before decisions are made to buy a property.
Knowing how much you would probably gain in tax depreciation for a prospective property could give you big savings and ROI. This knowledge, which is the "missing piece" of the property investment puzzle, could influence your decision whether a property could make or break your investment. But how can we come up with an estimate? Do we need to stay up all night crunching up numbers so tediously? Do we need to pay someone just to come up with these figures?
The good news is no. Because of Washington Brown's innovative and advanced solutions, property investors like you can now get an instant and free estimate of the tax depreciation deductions that a potential property would give you. And this is possible with our Rental Property Depreciation Calculator, which is a first in our country to determine a reliable and accurate estimation based on real properties from our extensive database. Two years in progress have continuously proven the originality and advancement of this tool that a patent application is underway for the concept!
We know you have a few questions in mind regarding this so here are our answers. Is this 100% accurate?
No two properties are the same which logically means that no result can be 100% accurate which is understandable. Despite that, this calculator provides the best information you can get out there as it is computed based on up to date information that we have access to regarding properties we have inspected. Aside from that, we have worked out a "barometer" that measures a result's degree of accuracy. All results are also rounded off to the nearest thousand.
Is there no limitation to the type of property that can be assessed by this calculator?
While our tax depreciation calculator caters to a wide range of property types, it excludes properties that have been renovated or are fully furnished. With many additional items to consider for these properties, we believe the results would most probably skew and complicated.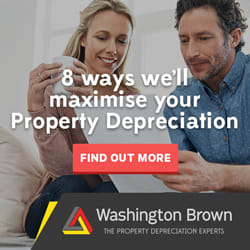 Can I feature this calculator as a tool in my website?
We would be glad to receive a written request for this through our email info@washingtonbrown.com.au so that we can take a look on your site and consider its suitability.
Can I base my tax return information on this estimate?
Unfortunately, the Australian Taxation Office and the Australian Institute of Quantity Surveyors require that properties must be evaluated by a quantity surveyor individually for actual data to be indicated in the tax return. This is to ensure that a thorough assessment of capital works and a detailed breakdown of your property's plant and equipment are obtained.
I clicked on the "Calculate" button and nothing happens. What does this mean?
This would be the case if the calculator could not find similar properties to base estimation upon. Fortunately, you can still get a verbal estimate by contacting us, or even better, we can give you the actual report on your property already. Apply for a quote here
I believe the numbers don't add up. What should I do?
While we have put in our best efforts to achieve accuracy, isolated cases of discrepancies cannot be avoided in the process of too much cross-referencing of information. We are happy though, to attend to your concern immediately as we receive your email at info@washingtonbrown.com.au.
What is represented by the "years" column?
Every year represents an entire financial year. The estimate you will get pertains to the allowances you are eligible for if you were to settle on that property at the time of the calculation. As an example, the Year 1 points to the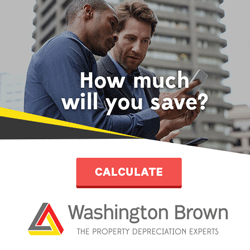 amount that you can claim over the coming 365 days if the property your purchased is similar to the data that you have keyed in. Return To Rental Property Depreciation Calculator
What is meant by the Diminishing Value and Prime Cost Methods?
These are both methods of depreciating plant and equipment items as per the guidelines of the Australian Taxation Office. The Diminishing Value method is where the allowances accelerate in the first few years while the Prime Cost method on the other hand spreads out the allowances evenly over a period of time. Return to Tax Depreciation Calculator
How can I tell the age of a property?
By knowing the year when the property was built, you can get the years of existence of a certain property. Without that information, you can find assistance from your relevant local council. Return to Tax Depreciation Calculator
How do you classify the property types?
Below is a list of our definition of the various types of property:
House: Freestanding property for residence
Townhouse:  Residential properties that are attached by way of common walls, forming 3 or more residences. Most townhouses share common external grounds as well as service connections.
Villa: Standalone residential property on a lot but with other detached houses. Service connections and external grounds are mostly common to all villas in the same lot site.
Unit Low Rise: A 3 or more levelled complex for residential use with access shared between the dwellings. The accesses are mostly walk-up. High end developments use lifts for access.
Unit mid Rise:  7 levels or more of a residential complex where access is common with at least one lift service. Usually, developments utilise basement car-parking.
Unit High Rise: Residential complex with more than 7 floors and equipped with 2 or more lifts and fire services as well. Common access and basement car-parking is also a usual characteristic.
Commercial: An office complex with basic floor finishes and services, open for prospective commercial tenants to retrofit and furnish
Industrial:  Some provisions include basic services, lighting, and fire protection. Services with higher quality may incur additional expenses due to additional electrical work needed. These structures often look like a warehouses and factory complexes.