Ever wondered how does investment property depreciation really work?
Just like you can claim the wear and tear on your car, you can claim depreciation for your property investment. It has to be an income producing property.
Bare in mind, depreciation law varies from country to country in relation to depreciation.
We're pretty lucky here in this country, in that we can claim depreciation on an investment property. Actually, I think we really have the most fairest depreciation laws in this  country compared to any other country because some countries base the depreciation on the actual purchase price, I think it's kind of fair that we base our depreciation laws here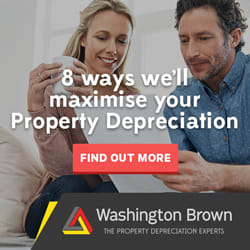 on the construction cost. And that makes sense to me.
But in summary, what you claim in terms of depreciation reduces your taxable income.
So for instance, if you earn $60,000 per annum and if you get a report from Washington Brown that says you can claim $10,000 in depreciation on that property, you should only be paying tax on $50,000 not the $60,000 that you're earning. Pretty simple.
Now, there are only two things you need to know about depreciation. The first thing is the Division 43 deduction. That's what is called the Capital Works Allowance and how I define it is the structure of the building, the brickwork, and the concrete.
In short, the stuff that's going to last longer. And if you buy a residential property, in order for you to claim that, it has to be built after 1985. So if you buy a property that's built in 1970, you cannot claim any building allowance on the structure.
If you buy property that's built in the year 2000 when it cost a hundred thousand dollars to build the structure, you'll get to claim 2.5% per annum over 40 years. If you bought it today and it was built in 2000, you'll get to claim it over the next 26 years at 2.5%. That makes sense. You'll get more.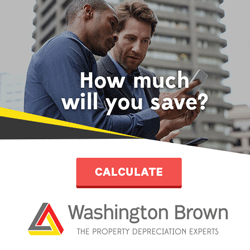 The next thing, the next common part we need to understand is what's called the Plant and Equipment or Division 40. So that's the stuff that wears out quicker. The ATO has defined it in two categories: stuff that wears quicker and stuff that's going to last for a long time. So bricks, concrete, roof, and windows are going to last over 40 years. The ATO has determined a list that's going to last for a lesser period which includes things like ovens, lifts, blinds, and carpets.
(UPDATE: Deductions for plant and equipment items may only apply to commercial properties, brand new properties, if you bought the property prior to May 9, 2017, or some other exceptions – Read about the Budget changes here).
If you get more wear and tear, you actually have to replace it sooner. So the ATO says if you buy a carpet for $2,000, you can claim that over a 10-year period and you can claim it per annum. On the other hand, for bricks and concrete, which they say is going to last 40 years, you get to claim that over 40 years. Pretty simple. So the more of this stuff you have in your property, the higher the rate of depreciation.
So for instance, the high-rise apartment where you have gyms, lifts and other common property items… You get a massive depreciation.
However, you might get a massive sinking fund to pay for as well.