The Rear View from Your Investment Property Mag
You run marathons all over the world and still run a solid business, how do you do it?
Not sure how I do the marathons…42 Km's is a long haul! But in terms of juggling the training and the work it all comes down to a great team of people around me.
Most of my staff have been with me around 10 years…so they know the company better than I do in most cases!
In regards to the training – I've just got to get up and do it or I won't get to the finish line. It's as simple as that. And my family tend to get a holiday at the end of it…so that motivates them to motivate me!
What inspires you to keep on pushing your limits as a person/athlete and property professional?
I'm the type of person that if I say I'm going to do something – I do it at all costs – which some might call stubborn.
I got pretty sick before the last marathon in Berlin and wasn't sure I was going to be able to finish. The on-course Doctor tried to ban me at the 10km mark when he heard me coughing. So when he wasn't looking I hid in the bushes and waited for 5 minutes then ran out and kept going. I did a slower time than usual but at least I finished it!
I guess that same drive has also made Washington Brown be the successful company it is today.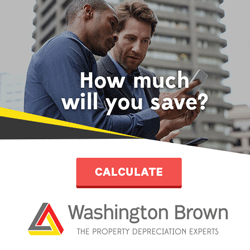 If you had $500k to invest now, where and what would you buy?
There are always opportunities in the market. I just bought a small unit in Cairns that is yielding quite well.
I'm currently looking in Hobart for a house as well.
But investing in Washington Brown and myself has been my best investment to date.
What's the coolest thing about being a kickass depreciation expert and investor?
In a recent survey Quantity Surveyor was ranked the number 4 sexiest occupation after Film Star, Media Baron and Soccer Superstar.
Hmmm maybe not!
In reality, it's the people/developers I've met along the way who have taught and continue to inspire me.
What are the 5 little known things about you?
I was a state junior lawn bowler at the age of 14!
I married my high school sweetheart.
I first worked for Washington Brown as a cadet for a year – for free – Now I own the company!
I have a 6 year old daughter named Taylor who has daddy wrapped around her little finger.
I ran a marathon on the Great Wall of China a year ago and I'm still sore.