Is housing affordability the biggest issue in Australia's housing market as we near the end of 2021?
WHAT an exciting year 2021 has been for property, with ups and downs and roundabouts.
While the downs included some cities suffering – including Melbourne, with no in-person inspections allowed during a lengthy lockdown – mostly we have seen ups. We started the year wondering if the residential market would boom, and now we have the answer – a very definitive yes!
This time last year, prices had risen for just two months in a row, but fast-forward 12 months, and they're still growing. According to CoreLogic, we have just ticked off the fourteenth consecutive month for price growth, with values up 22.2% over the past 12 months – or $126,700 for the median Australian home value.
Houses have grown much more than units, with the value gap between these property types in capital cities now 37.9% in favour of houses, equating to $240,500, according to CoreLogic.
Hobart has been the best performing capital city, with annual growth of 27.7%, followed by Sydney (25.8%), Brisbane (25.1%), Canberra (24.5%), Adelaide (21.4%), Darwin (16.7%), Melbourne (16.3%) and Perth (14.5%).
So what's in store for next year? Are we at or near the peak of the market, or is there more growth to come?
There are signs that growth is moderating.
Many real estate players have reported that they have never seen such strong conditions across the market, with intense buyer demand driving higher prices. But we may now be at the point where we are seeing some of the heat being taken out of the market.
CoreLogic figures show that the 1.3% rise in values in November was the lowest rate of monthly growth since January, when we saw an increase of 0.9%, and is part of a downward trend since March when prices recorded growth of 2.8%.
All capital cities are experiencing a slowdown, except for Brisbane and Adelaide. These cities recorded a 2.9% and 2.5% price rise over November, more than double most of the other capitals. CoreLogic Research Director Tim Lawless attributes the growth in these cities to ongoing strong demand due to better affordability. They have been less affected by COVID lockdowns and positive interstate migration.
In regional areas, which also benefit from affordability and the movement out of the cities, the monthly pace of capital gains has accelerated over the past three months. CoreLogic data shows Australian housing values were up by 2.2% in November, double the 1.1% for capital cities.
Apart from moderating price growth, other factors indicating a broad slowdown in the market include slightly higher listings and days on the market, and lower auction clearance rates, says Lawless.
Price increases are creating housing affordability issues
Affordability pressures are also growing as prices have risen so much, with fewer households being able to afford to buy, which can constrain future growth long term.
According to a CoreLogic and ANZ analysis, the ratio of housing values to average household incomes reached a new record high in June of 7.7, up from 6.4 in the September 2020 quarter and higher than the decade average of 6.3.
The number of years it takes to save a deposit is also at a record high, with a typical household needing 10.2 years to save a 20 per cent deposit to buy a home.
According to Lawless, rising fixed rates and less credit availability with an increased serviceability buffer could also take some heat out of the market.
But he says variable interest rates are more likely to stay low until the cash rate lifts, which could be at least a year away. Experts say housing affordability will be a much bigger issue when that happens, with price rises managed so far due to record low rates.
Housing affordability pressures are being felt around the world
No matter how you look at it, huge spikes in dwelling prices have made housing affordability a real issue in Australia, if it wasn't before.
It's particularly problematic for first home buyers, who need to save a big enough deposit to get into the housing market. And we know home ownership in Australia has been falling for the past 30 years.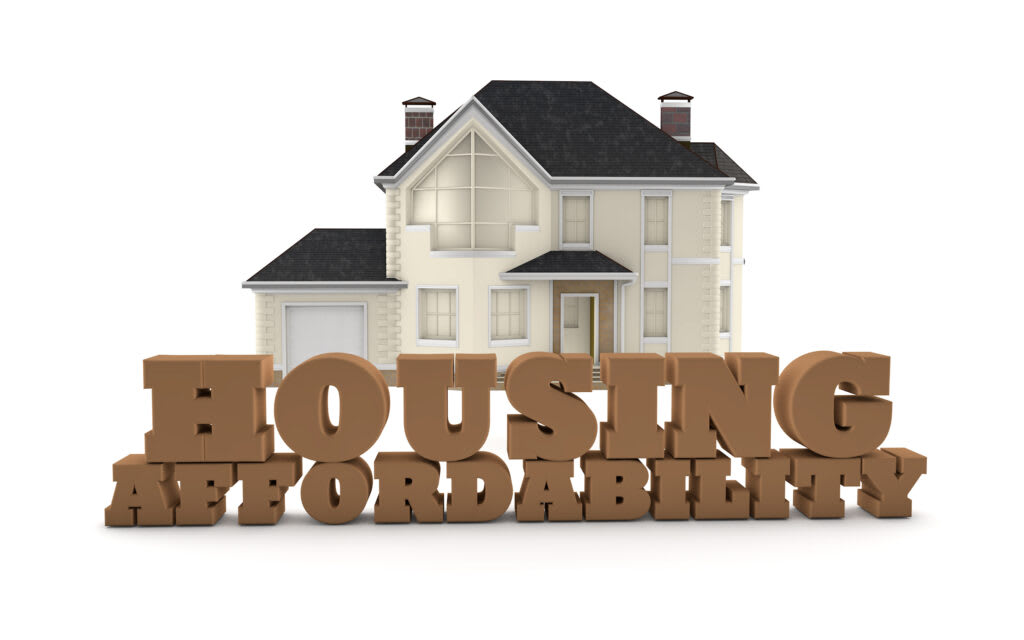 Housing cost affordability is not just an issue in Australia; it's something many countries worldwide have been grappling with, with residential property prices mostly rising globally during the pandemic.
There are so many complexities to affordability, with no simple solution for improving it.
Does it just boil down to demand and supply – or indeed, these factors in the most sought after markets, close to cities, jobs and infrastructure, and for the most sought after properties?
Economic theory would dictate that it does, but then you have other factors such as homebuyer grants and concessions, designed to assist affordability, but instead are believed to merely inflate prices.
Then there are tax breaks offered to investors, which drive up buyer competition, but on the flip side can also help provide housing supply, particularly for rentals.
Decentralisation is another factor – if you make areas away from the capitals more attractive with improved infrastructure, it can lower demand for areas close to cities where buyers are competing and driving prices up.
While governments say they want to help with housing affordability, it's also true that no government wants to see housing prices fall substantially, as this would make them highly unpopular at the ballot box.
In any case, Australia has launched a government inquiry this year into housing affordability and supply, looking primarily at the impact of tax concessions for investors, and housing supply, including zoning.
How are other countries addressing housing affordability
According to a recent article in The Economist, a whole host of countries worldwide, including the US, Ireland, Canada, Germany, and Spain, are imposing restrictions on large investors when buying up property.
This comes as anger spreads that these buyers are causing prices and rents to rise, even though their share of home ownership as part of the overall market is in the single digits, mostly under five per cent.
A 10 per cent stamp duty tax has been introduced in Ireland for bulk home purchasers. In contrast, New Zealand has disincentivised investment by introducing a capital gains tax that encourages investors to hold the property for longer.
We are yet to see the results and recommendations from the Australian inquiry; we'll keep you updated.